Ádám Gál
| Long-Term Therapy Resident
I entered the Long-term Therapy Program in the autumn of 2014 for the second time, since I had unfortunately relapsed after my first time in therapy. I was really sick, my life felt like a dead end, my thoughts were confused. In therapy, I understood that I should not only deal with the symptoms of my addiction, but I also had to dig deeper to find the root causes.
Katalin Ravasz
| PR Volunteer
I first got in contact with Bonus Pastor Foundation because of a personal story. I was impressed by the presence of the staff member, the attention she gave to my story, how she understood what I was talking about. Later, as I interacted with other staff I found they brought the same level of attention and care. Because of this I try to give something back and to contribute my professional knowledge so that the Foundation is visible and accessible to everyone who needs it.
Kyle Ferguson
| Former Staff Member
I was first introduced to Bonus Pastor as a volunteer in 2012, later I came back with my family as an adjunct staff member in 2014. I liked to be part of an organization that not only tries to address various addictions by also works to counter the countless misconceptions about addictions in Romania.
Dénes Pál
| Supporter | Melinda Impex
My brother and my father found the Bonus Pastor Foundation after several unsuccessful medical treatments for addiction. The alcohol and drugs distort the addicted person and makes them disdainful. The work of the Foundation has revealed that though the addict is despised by society, God's creation is still present there. My family members' rebirth had a great impact on me, so I gladly support the work of the Bonus Pastor Foundation.
Beáta Angyalosi
| Photographer
When I first told my Uncle about the Bonus Pastor Foundation he thought I wanted to send him to a sanatorium, but this characterization cannot be applied at all to the Ozd Therapy Center. I think it is very important that people who are interested in therapy can see the friendly, homely environment that welcomes them there. I am happy if I can contribute toward representing this with my professional photography skills.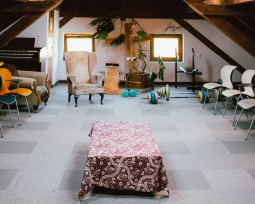 12 days therapy program for addicts and their adult relatives at the end of August.
The Castle of Radák-Pekri in Ozd
How is the story of this beautiful renaissance castle linked with the Bonus Pastor Foundation? Can you visit the building that we are trying to save?